04 Dec

Hilma af Klint, the Woman Who Painted the Future

"That is at bottom the only courage that is demanded of us: to have courage for the most strange, the most singular, and the most inexplicable that we may encounter. That mankind has in this sense been cowardly has done life endless harm; the experiences that are called 'visions,' the whole so-called 'spirit-world,' death, all those things that are so closely akin to us, have by daily parrying been so crowded out by life that the senses with which we could have grasped them are atrophied. To say nothing of God."
"You have mystery service ahead, and will soon enough realize what is expected of you"
"Hilma af Klint: Paintings for the Future" : a Swedish woman, born in 1862, was making ravishing abstract paintings on an enormous scale several years ahead of the modern artists usually credited with inventing abstraction — men such as Wassily Kandinsky, Piet Mondrian, Kazimir Malevich and Frantisek Kupka. This fact — news to many — forces a rewrite of art history. As such, it deserves all the emphasis it has been getting. But the show — perhaps the most mind-altering, historically significant event of the year in art — is more interesting than even its headline.
Klint made these paintings thinking she was taking instructions from a brotherhood of spiritual sages communicating telepathically from Tibet. So, a question arises: Does the image of Klint attending Stockholm séances with her four female friends (they called themselves the Five) and channeling invisible guides they called Amaliel, Ananda, Clemens, Esther, Georg and Gregor dilute the significance of her achievement, or need it have no effect at all? Klint's spiritual convictions were by no means out of step with the times. Spiritualism was part of the intellectual climate in Europe at the turn of the century and attempts to communicate with higher levels of consciousness were common. Kandinsky, Mondrian, Kupka and Malevich were all influenced to some degree by an interest in the occult, and by theosophy in particular.
Established in New York by the Russian émigré Madame Blavatsky, Theosophy was a fast-spreading spiritualist movement that sought to reconcile Eastern philosophy and religion with its Western counterparts. Addressing itself to Darwin's theory of evolution, to the invisible forces (X-rays, atomic particles, radio waves) recently uncovered by science and to a growing awareness of relativism in religion, it sought to lend stability to the era's dizzying intellectual flux. Much of the order it posited seems ridiculous in retrospect. But many great minds were drawn to it.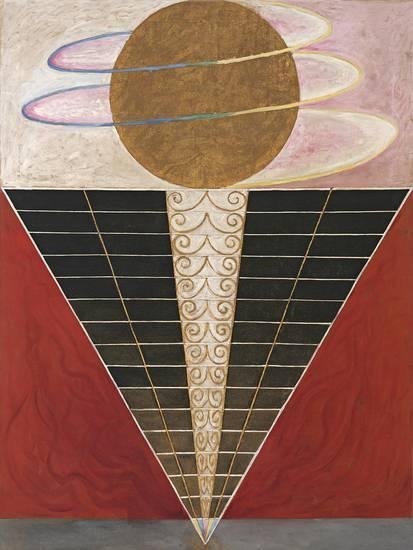 Klint participated in her first séances in 1879, at age 17. Her sister died the next year. She enrolled to study at the Royal Academy of Fine Arts in the 1880s soon after the school began admitting women. After graduating with honors, she pursued an active public career, accepting portrait commissions, exhibiting landscapes, making exquisite scientific illustrations and joining the board of the Association of Swedish Women Artists, even as her heart's desire was secretly blossoming into the 20th century's first and most splendid abstract paintings. When the Theosophical Society opened its Swedish lodge in 1889, Klint immediately joined. Seven years later, she and the rest of the Five began participating in séances and communicating with the High Masters in Tibet. They practiced automatic drawing — a form of channeling the unconscious, or unseen spirits, later practiced by the surrealists and their progeny, including Pollock.
Fearing madness, the other members of the Five pulled back from acting as mediums. So, in 1903, Klint took over as the group's conduit to the High Masters, two of whom (Georg and Ananda, if you're wondering) urged her to build a temple the next year.
A century on, what are we to make of a story that attributes groundbreaking artistic innovation to séances, telepathy and spiritualist hokum? I think a bit of imagination is in order. First, we might ask: What was it like being an intelligent, middle-class young woman in Sweden at the turn of the last century? What was it like, in the wake of the death of a sister, arriving at a passionate belief — deriving not from ignorance but from education in science, art, and comparative religion — in the existence of worlds beyond the observable one? And what was it like as a woman facing near-constant condescension and exclusion, possibly even fear of madness?
Hilma af Klint in Stockholm, ca. 1910. (Courtesy of the Hilma af Klint Foundation, Stockholm/Courtesy The Hilma af Klint Foundation, Stockholm)
Fundamentally I believe that there is so much that we can't comprehend and decode, not even with scientific data that folks like Paracelsus, Emanuel Swedenborg to Hilma Af Klint and Carl Jung have devoted their lives to, trying to create a communication bridge between the seen and the unseen, time and space.
'Magic… in its perhaps most primordial sense, is the experience of existing in a world made up of multiple intelligences, the intuition that every form one perceives — from the swallow swooping overhead to the fly on a blade of grass, and indeed the blade of grass itself — is an experiencing form, an entity with its own predilections and sensations, albeit sensations that are very different from our own.'
"… aber trotz mehr Arbeit und Ablenkung blieb ich ihr getreu, auch wenn ich nie eine andere…"
Möglichkeit…"
"Life, is a farce if a person does not serve truth."
Text by Sebastian Smee for The Washington Post | closing paragraph by Susanna Barla | quote by David Abram & Carl Gustav Jung